News Flash
Prestigious University in the USA has very recently concluded that Sodium Silicate as a pipe corrosion preventor in Municipal Drinking Water pipe supplies, (serving the public in Buffalo, New York), is a superior method, with harmful LEAD levels significantly reduced.
Click the poster to the right to see the complete report in a simple graphic format.
For more information, see the Library Section of this website.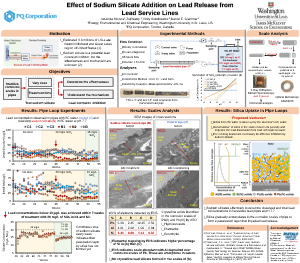 Overview
We protect all pipe systems, new or old!
Copper, Brass, Steel or Lead pipe.
We protect failing metal connections in plastic or epoxy-coated pipe
We stop pinhole leaks under all these circumstances quickly & inexpensively!
Continue to use your existing water pipe for the remaining life of your building
Entire installation usually takes 6 hours
Initial installation cost is less than 1% of total pipe replacement
More than 185 buildings added to our portfolio, since 2017
More than twelve thousand apartments continuously protected
See why LEaC Shield is the most economical solution - Guaranteed!
Our water treatment process of stopping corrosion in pipes uses safe minerals. The timeline below outlines a brief history of the use of these minerals in England and Canada. Our program relies on local Drinking Water utilities to provide potable water to our clients. We add our treatment chemical to prevent corrosion only; in no way changing the chlorine treatment already provided for disinfection purposes by your public water utility.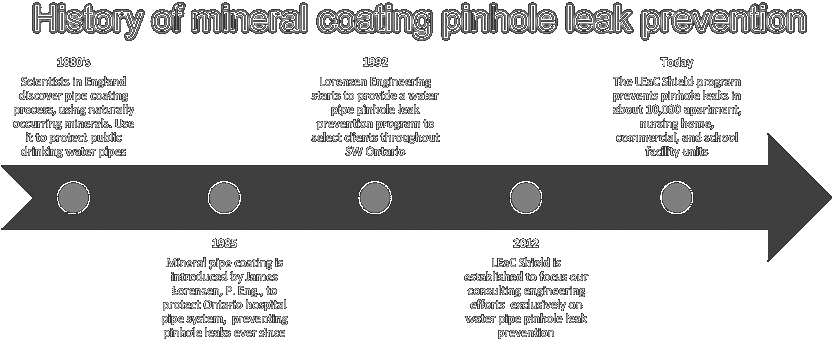 Today, LEaC Shield offers…
Water treatment program to stop pinhole leaks quickly and cost effectively. National Sanitation Foundation (NSF) 61 certified construction materials used.
Inherently safe minerals that have been fully tested and approved for human consumption for over ninety years; no changes or upgrades needed to meet all applicable Ontario government standards, even as time passes. (NSF) 60 certified chemicals used, as dictated by the Ontario Ministry of Environment & Climate Control; can be reviewed by local Public Health officials when requested.
Energy efficient pumps and water flow balancing equipment when truly cost effective.
No use of potentially harmful chemicals such as plastics or epoxies; as history has shown that many of these materials degrade over time, requiring continual refinement, new patents, and extensive government review and re-approval.
How LEaC Shield Compares to Epoxy Coating
We stop pinholes in all your pipe. Not just in hot water risers in public corridors. All horizontal pipes, all vertical pipes, and all apartment suite pipes are protected for the remaining life of the building.
Epoxy coatings can fail spectacularly in many ways. During the initial application something can go wrong inside the pipes, when maintenance is completed the epoxy can be damaged, and over time as corrosion occurs in pipe not coated.
The installation and maintenance cost of our water treatment program is a small fraction of the cost to inject an epoxy coating in all your pipe. Future plumbing needs in your water pipes can be met by any plumber, using standard methods, including a torch, as we only treat the water; epoxy coating companies must complete all future plumbing work in your building to maintain their warranty.
We do not modify, nor change the existing water pipe structure in any way. Epoxy coatings change the water pipe; once it is used, any future leaks require the coated pipe to be removed and replaced.
Our water treatment method has been used by many Ontario Public Water Utilities to prevent corrosion of their own water pipes. Sodium Silicate as a water treatment chemical, is currently used in many apartment buildings, condominiums, and schools across North & South America, Australia, Asia, and Europe. Sodium Silicate is a remarkably safe mineral, approved for use in food, drinking water, and even hand & facial cosmetics for about one hundred years without any restrictions on chemical make-up. Approved by Health Canada, Health Dept. (W. Australia), the World Health Organization, The United Nations, and the USA Environmental Protection Agency, Centers for Disease Control, and National Institutes of Health, amongst many other governmental agencies too numerous to list herein.
Epoxy coatings require special approval, and it must be renewed regularly.
LEaC Shield Professional Accreditations
Registered as a Professional Engineer with "Professional Engineers Ontario", includes a Building Design Specialist Designation
Registered as a Consulting Engineer with "Consulting Engineers of Ontario"
Member of "Ontario Society of Professional Engineers"
Member of "American Society of Heating, Refrigerating, and Air-Conditioning Engineers"
Member of "American Society of Mechanical Engineers"
About Pinhole Leaks
Pinhole leaks occur when the inner surface of the pipe is worn away over time; either in one small spot or anywhere throughout a building. Corrosion causes the pipe to wear.
Water Pipes will Leak for a Number of Reasons:
Water Velocity - Fast moving water through pipes will act like sandpaper on wood... a hole will develop. A small pipe can carry too much water; this causes the speed of the water to increase beyond what the pipe should bear and the pipe wall wears away. Small dead-end pipe sections can often cause stagnant water locations, leading to bacteria growth and pinhole leaks as well.
Excessive Water Pressure - High pressure makes water move very fast through pipes. Damaged valves and unbalanced water flows also cause high or low pressure in small sections of the pipe network; this causes the speed of the water to increase beyond what the pipe should bear and the pipe wall wears away.
Turbulence - When new pipe sections are joined together, a small ridge can accidentally be left on the inside of the connection. If these ridges are not removed prior to joining, flowing water hitting that ridge will bounce over it, like a car over a speed bump. This water bounce will wear away the pipe wall, near the cut edge. This is why many leaks occur at elbows, valves or tee fittings.
Water Chemistry - The Great Lakes provide high quality water, suitable for human consumption after treatment with various chemicals such as chlorine, Alum, carbon, caustic soda, chloramine, and fluoride. However, this water can corrode pipe networks over time. This is why many leaks occur at elbows, valves or tee fittings throughout the entire building.
Unbalanced Piping Systems - Without adequate balance, too much water will flow very fast through small portions of the building's water service. This can cause pinhole leaks. Balancing valves are used to limit the flow rate to prevent pipe wall damage.
Non-stop flow - Often a small re-circulation pump is used to make sure that hot water is instantaneously available throughout a large building. This pump usually runs non-stop. Over time, this pump may cause the water to slowly wear away the inner surface of the pipe; especially if it moves more water than needed.
Current repair options are often costly and act as a "Band-Aid" solution for pinhole leaks. Re-plumbing and epoxy pipe-lining often attack the symptoms behind pinhole leaks rather than the root causes. While re-balancing pipe networks with new flow-control valves and using smaller capacity recirculation pumps can often lower the rate of corrosion, this rarely prevents most pinhole leaks.
LEaC Shield corrects the root cause of pinhole leaks by preventing corrosion.
The LEaC Shield Solution
LEaC Shield is the best proven solution - Guaranteed!
A well-known solution for many water pipe problems...
Toronto, Laval, Montreal, Peterborough, and many other public drinking water suppliers apply a food-grade mineral onto existing drinking water pipes serving all their customers.
LEaC Shield also prevents pinhole leaks by...
Continuously coating the inside of your water pipes with a food-grade mineral.
The LEaC Shield Process:
Step 1: Provide a free assessment of your building's water distribution system. This assessment is completed in one day.
Step 2: Issue a Report which will describe typical pipe leak problems. The report shall provide the cost to implement a solution tailored to your building's unique conditions. This report is provided in 1 week.
Step 3: Implement our program. This involves: a) adjusting water flow rates by installing balancing valves and modifying water pumps (only when truly needed), b) adjusting water temperatures (when beneficial), and c) installing our equipment; often within 1 day.
Benefits of the LEaC Shield Program:
Installation can happen very quickly; usually in one eight-hour period.
Water leaks are quickly stopped for the remaining life of your building. The life-time cost to prevent leaks is 25% of the cost to replace or epoxy coat your pipe. The initial investment to prevent leaks is less than 1% of the cost to epoxy coat or replace pipe. No need to significantly deplete your Capital Reserve Fund.
Excess Lead contamination within a building's copper pipe is eliminated.
Comparison of Pinhole Leak Repair Alternatives
Method of Pinhole Leak Repair
Install New Pipe
Epoxy-Line Existing Pipe
(see note 1 below chart)
LEaC Shield Pinhole Leak Prevention Program
Percentage of TOTAL Pipe Replacement Cost
100%
70-80%
Less than 1%, for installation cost. Monthly cost as low as $2.50 per condo unit; will depend on size of building.

Less than 20%, for total cost over 25 years
Guarantee / Warranty
1 year parts and labour
At least 10 years, parts and labour. Some exclusions may apply
Lifetime warranty on LSL equipment*
Expected Useful Life of Pinhole Leak Repair Process Used
5-25 years
Check references to verify all written claims, especially if more than 10 years is claimed
The remaining life of your building;

as long as LEaC Shield is maintained
*LEaC Shield Warranty - Terms and Conditions shall apply
Note 1: Please see this reference for a thorough engineering review of water pipe epoxy coating experiences.
Certification & Safety
Applicable Law, Regulations and Standards for Ontario drinking water:
Ontario Safe Drinking Water Act, 2002. Ministry of the Environment, O.Reg. 170/03 & 243/07.
NSF/ANSI Std. 60. Food-grade mineral(s) comply with all regulations affecting health. They are safe to use in drinking water; municipalities such as the Region's of York, Durham, and Oxford use them. NSF is listed by the Standards Council of Canada, as required in the Ontario Building Code.
All LEaC Shield food-grade certified minerals comply with the Law, Standards, and Regulations listed above and have no adverse environmental or health impact. Drinking water sources and many foods produced throughout the Great Lakes region naturally contain these minerals. See this link to an important independent report on the health benefits of Silica in drinking water. This report was recently completed for the City of Longview WA, USA. Their drinking water regularly has 15 times the amount of silica that LEaC Shield uses to protect pipes here in Ontario.
A sampling of municipalities within Ontario & Quebec that make use of sodium silicate in their drinking water supply, serving all residential, commercial and institutional customer(s), includes:
Ontario:
Quebec:
Ville de Montreal
Ville de Lavaltrie
Ville de Gatineau
Ville de Granby
Ville de Trois Rivieres
Ville de Rosemere
Ville de Chateauguay
Cap De-La Madeleine
Ville de Longeuil
Ville de Laval
La Cite de Drummondville
Ville D'Acton Vale
Ville de Baie Comeau
Ville De Becancour
Ville De Donnacona
Ville de Huntingdon
Ville de l'Assomption
Ville de Lavaltrie
Ville De Mont-Tremblant
Ville De Pierrefonds
Ville de Plessisville
Ville De Pointe-Claire
Ville De Repentigny
Ville De Sainte-Adele
Ville De Sainte-Therese
Ville De St. Eustache
Ville De St. Hyacinthe
Ville de St-Louis de France
Ville De Trois Riv. Ouest
Ville De Trois Riviere
Ville De Victoriaville
Ville de Buckingham
See the Ontario Society of Professional Engineers' Engineering Bluebook for additional information.
Toronto also prevents corrosion in its citizen's drinking water. Learn more about Toronto's corrosion control efforts.
Get in Touch
To get more information about LEaC Shield or to request a free assessment of your building's water distribution system, send us a message…
About LEaC Shield Ltd.
Founded in 1992, LEaC Shield is a family-owned engineering consultancy that provides water system consulting, engineering and master plumbing services throughout Southwestern Ontario, Canada.
We pride ourselves on our use of Canadian-made products, and we're excited to offer superior-quality water monitoring and control equipment through our sister company Water Shield.

LEaC Shield Ltd.
123 Consortium Court
London, Ontario
N6E 2S8
1-855-946-1783
---
Partners